Chichester Open Studios Artists
Malcolm Macdonald
Posted by Nicola Hancock on 19th January, 2018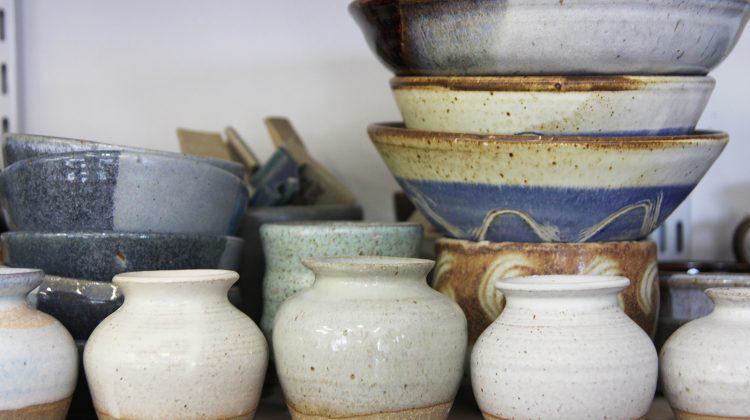 As mentioned, our first visit was to Malcolm in The Studio at Dobbies, in Nutbourne.
Having returned later in his career to pottery, a craft he loved from his years in art college, he now runs a fully functioning pottery studio. He specialises in gas fired stoneware and has a passion for glazes and experimental work with the basic materials.
His roots are in the studio pottery movement and much of his work is traditional, functional, domestic ware. Apart from his own work he teaches weekly classes and one-day workshops in the studio.
To see what Malcolm does, 'Go to Pot' at www.dobbies.net and his studio will be open in the 2018 Art Trail.
... You only have to put your hands into a pile of wet clay to be drawn by its primitive call to mould or form it.

Nicola Hancock

How long have you been at this studio?

Malcolm Macdonald

Having lived at the cottage opposite for nearly 20 years we were able to purchase this building and the land just 10 years ago. It is around 150 years old and was originally a milking parlour.

Photographic Credit: Ellen Hancock

Nicola Hancock

What is a normal day in the studio like for you?

Malcolm Macdonald

I, like many others I suspect, would say there isn't a 'normal day'. Every day is different, sometimes similar, but with different accents and priorities.

I teach classes three days a week and as far as they are concerned, there is a sense of normality but again each session will be different because the lessons are driven by the students own interests. On my days in the studio, there will be a certain amount of clay preparation, kiln firing, packing and unpacking, but if I am going to be working on the wheel I will always prepare everything the day before.

Clay prepared, clean wheel batts, drawings and notes in my sketchbook on the weights of clay required. I will pop across the road first thing in the morning and light the log burner and put the coffee on. After breakfast I can come over, weigh up my clay, have a coffee and get down to work. I will generally make a few variations of the ware that I'm making before deciding on the final shape for the series.

That is the relatively easy part, the following day is taken up with finishing, turning all the bases and applying handles and lugs.

Having produced the ware it is set to dry out and subsequent days will be filled with kiln packing, firing and glazing.

Photographic Credit: Ellen Hancock

Nicola Hancock

What is your favourite feature of the studio?

Malcolm Macdonald

In real terms, the location takes a lot of beating with uninterrupted views across a nature reserve which is inspiring at any time of year and any weather conditions.

If we're talking practically, it has to be my 'Peter Pugger" pugmill. Having been used to spending hours wedging, kneading and recycling clay this brilliant machine does it all leaving me with enough energy to get on with 'making'.

Photographic Credit: Ellen Hancock

Nicola Hancock

How have you adapted the studio to assist and develop your artistic practice?

Malcolm Macdonald

The building was a bare rectangle around 6 x 8 metres and I was able to build in benches, a sink unit and shelving on three walls, leaving me enough space for three works tables, three electric wheels, a slab roller and pugmill. Because I'm using propane gas to fire my 16cu.ft. kiln, I built an outside "shed" to house it.

Photographic Credit: Ellen Hancock

Nicola Hancock

What changes to your studio, that you are unable to make, would you make if possible?

Malcolm Macdonald

None, I believe I have the perfect set-up.

Photographic Credit: Ellen Hancock

Nicola Hancock

What time of year do you most enjoy your studio?

Malcolm Macdonald

Spring and autumn are always the most exciting and dramatic because the low sun streaks through the two wide south facing windows, across the studio, showering the work with light.

Photographic Credit: Ellen Hancock

Nicola Hancock

You run courses and teach at your studio, do you enjoy having people working in the studio alongside you?

Malcolm Macdonald

I have spent a large part of my career teaching and I just love sharing what I know with others. Pottery is one of the most satisfying hobbies imaginable and I get a real buzz from my students enthusiasm and their joy in creating original work.

Photographic Credit: Ellen Hancock

Nicola Hancock

When you are creatively lost or frustrated how does the studio inspire you?

Malcolm Macdonald

You only have to put your hands into a pile of wet clay to be drawn by its primitive call to mould or form it. Just that contact with this wonderful plastic material, from the earth, centres you and generates a need to express yourself through the medium.

Photographic Credit: Ellen Hancock

Nicola Hancock

What projects are you working on at the moment in the studio?

Malcolm Macdonald

I have to admit that I very rarely embark on 'projects' my work is more artisan. Whilst I do make occasional decorative pieces, for the most part, I produce domestic pottery, mugs, jugs, vases, bowls and oven to tableware.

Photographic Credit: Ellen Hancock

Nicola Hancock

What is a 'studio' to you?

Malcolm Macdonald

The studio is is a workplace first and foremost, but having assembled your tools and equipment it has to have something else which raises your spirits, whether it be music, images around the walls or an outside aspect. You do have to feel happy to create and when everything is just right it is like turning on a tap.

I have done lots of professional jobs in wonderful studios and my present studio is something I could never have dreamed of. It fulfils all of my creative needs and also allows me to share my skills with others.

Photographic Credit: Ellen Hancock