This year, we have taken more great steps to ensure that the Art Trail event is respectful of the beautiful environment in which it takes place.
As lush as the growing May grass, or as verdant as our spring Trail byways, or even as green and pleasant as our beautiful setting… it really is the brightest of bright GREEN that hails Chichester Open Studios Art Trail!
And now, it may be hard to believe, but…Chichester Art Trail is going EVEN GREENER!
Last year we sacrificed our scrumptious GREEN balloons. Though we loved them dearly, and they added to our sense of excitement and occasion, we just could not continue to bring 25 balloons per Venue (around 3000 in total) into the world each year.
So they have gone…and less is more in the caring for our environment and animals. (And there is the added bonus of a reduction in the stress caused by balloons popping in heat or when blowing onto nearby bits of spiky environment, or by being magnets for the revels of late night dare devils).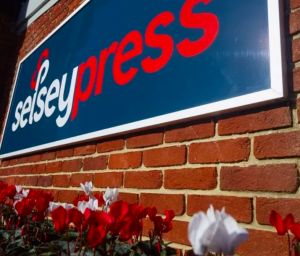 Onwards to this year and we have taken some more interrelated GREENER steps…
Historically, the Trail Guide has been printed by Bishops Printers in Portsmouth. Whilst they have served us very well, we are this year chuffed to bits to be working with, and supported by, Selsey Press.
It is a great thought that our growing group of artists, in our endeavours to bring artwork to residents and visitors in our community, can place the substantial task of printing 22,000 Trail Guides into the hands of a much respected local business.
And here's where we can go even GREENER!
Selsey Press is an environmentally conscious printing company and we reduce our ecological impact in a number of ways, from the sustainable materials we use and how we reduce waste from our state-of-the-art machines.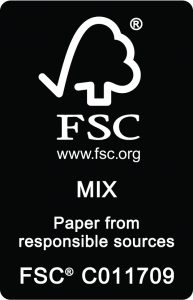 To this end, Selsey Press are certified to use Forest Stewardship Council® (FSC) products sourced from well-managed forests and other responsible sources. FSC promote environmentally appropriate, socially beneficial, and economically viable management of the world's forests.
We will be using sustainable paper and are helping to take care of the world's forests; we can sport the FSC logo on the Trail Guide to show this.
We have also been offered the option to carbon balance the effect of producing our Trail Guide and have elected to contribute a very modest fee to use carbon balanced paper. This allows us to reduce our carbon footprint and our impact on climate change.
Carbon Balancing is delivered by World Land Trust, an international conservation charity, who protect the world's most biologically important and threatened habitats acre by acre. Through land purchase of ecologically important standing forests under threat of clearance, carbon is locked that would otherwise be released. These protected forests are then able to continue absorbing carbon from the atmosphere. This is now recognised as one of the swiftest ways to arrest the rise of atmospheric CO2 and global warming effects. As an organisation we can then use the World Land Trust logo on our print.
So when you see the back of this year's Trail Guide you will see that alongside our own logo, there are two more logos proudly communicating our responsible stance concerning matters environmental.
Here's to an ever brighter Chichester Open Studios Art Trail GREEN!
About this post

Open Studios Dates

Chichester Open Studios will be held on 18th, 19th, 25th, 26th and 27th (Bank Holiday Monday) May, 2024.

View artists