THERE'S NO DOUBT, IT IS A THRILL
to see all the data we have been gathering from 177 artists finally come together in this year's Trail Guide. Now is the time to view your own entry…which is destined to appear in 22,000 printed copies!
Hope you enjoy the February Newsletter – from proofs to publicity, blog posts and more, there is a lot to share!
View the Trail Guide proof
It is crucial to check your own entries to see if there are any errors in the information you have given for visitors.
Send any amendments by return.
Note: do not send a reply to the Newsletter – please use this link info@chichesteropenstudios.org


There is no need to contact us if all is correct.
The Trail Guide will progress to the final stage of the printing process on Feb 20th.
At that point, there be no further opportunity to change your entry.
PUBLICITY!  PUBLICITY!  It's all about PUBLICITY!

ART TRAIL PUBLICITY
 We promote the Trail and support our artists by advertising in the Press, local magazines, via Social Media platforms, keeping the website active and providing signs, posters, flyers and Trail Guides.

 Your own efforts to market your Venue, your work and the Trail, to friends, fans, family and other interested parties, are greatly appreciated and will serve to increase visitor numbers and all artists' enjoyment of the Trail experience.
To this end, there is a Publicity page on the website (under Join Us) where we have provided publicity resources, ideas and information for you to use.
Please take a look, and spread the word.
PROMOTING YOURSELF AND YOUR ARTWORK
 With your artist publicity platforms and contact details just a click away, your Art Trail webpage is now a year round connection to all aspects of your work and practice. 

Our Artist Resources series may have some further helpful ideas as you prepare for the Trail.
View the Publicity information
DIARY DATES ARE AVAILABLE ON THE WEBSITE
You can check what is happening, and when, in the Diary Dates for Artists
CURRENT TRAIL TASK
  Proof read your entry in the Trail Guide
  Please download the Guide proof here
If you find any errors, contact us by return using this link info@chichesteropenstudios.org
No amendments can be made after February 20th
COMING SOON
  Collection Day on Saturday 4th April 10am – 3pm, at Courtyard Studios in Chilgrove. This the time to collect all you will need for your Venue and your allocation of Trail Guides. It is also a social event for those who would like to stay awhile and meet other artists.
 More information in the March Newsletter and on the website – Collection Day


REMINDER  If you are wondering about something…all the information you need to participate in the Trail is on the website under the Join Us tab.
We have news and features about our artists on the website:
Blog

 with any latest news. Do you have news to share?

Resources for Artists

 Do you have services to offer other artists? Perhaps we can feature you in our Resources series.
Let us know by clicking this link to send an email info@chichesteropenstudios.org
Artist Interviews

  Insights into studio worlds and the creators who inhabit them. This is a lovely medium for promoting the work of Trail artists and is testament to how inspiring it is to be a Trail visitor.
The Trail has a social media presence on Facebook and Instagram  If you are able to follow/like/share @chichesterarttrail and to add #chichesterarttrail2020 to your Trail related posts, that would be of great help to us all!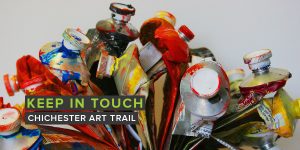 As the Trail timeline unfolds, we will continue to keep you up to date via the Newsletters.
All previous Newsletters are available on the Blog
Just a thought…
As you are no doubt busy creating work for the approaching 2020 Trail, here is advance notice of the requirements for the Oxmarket Preview Exhibition towards the end of April which includes a contribution from every artist.
Paintings or flat artwork 1 piece only, covering a maximum area of 100cm x 100cm.
3D work 1 or 2 pieces, maximum table, floor or plinth area of  60cm x 60cm. 
Jewellery 1 shelf, 40cm x 40cm, in a lockable display case.
You can read all the necessary information about the Oxmarket Preview Exhibition on the website.
Best wishes to all,
Nicola
P.S.  It may be hard to believe, but…Chichester Art Trail is going EVEN greener! 
We have taken more great steps this year to ensure that the Art Trail event is respectful of the beautiful environment in which it takes place.
Read all about it on the Blog
About this post

Open Studios Dates

Chichester Open Studios will be held on 18th, 19th, 25th, 26th and 27th (Bank Holiday Monday) May, 2024.

View artists