A LETTER OF NEWS & INFORMATION
GOOD WISHES & THINGS TO HELP
Good News! Although we will not be able to open our Venues, the Trail continues to be a voice for our art and artists. We may need a paradigm shift from physical to virtual, but visitors will still have access to the fruits and inspiration of the combined creativity of 177 talented local artists.
CHICHESTER ONLINE 2020 ART TRAIL
2020 Artists' online assets are still in place; social media and email marketing will direct traffic to the website so that visitors will still be able to follow the Trail. We all have our own webpage, with our art, background and inspiration, contact details and links to external publicity – we are still just a click away! 
At this tricky time, from the comfort of their homes, visitors may browse the whole Trail or explore the Peninsula, Regis, City, Downs & Harbour, find their favourite category of art or look for artists they admire.
Please use your own marketing methods to add to our efforts and invite potential Trail goers to visit our webpages…there are no time constraints now, they can visit any day they fancy! And, of course, contact any of us if they would like to visit our Venues at a future date.
The Arts Editor of Chichester Observer has offered to feature the Trail for several coming weeks. We will be in touch with a number of artists to get this process in motion as soon as we can; it gives us a welcome opportunity to raise awareness of the Chichester Online 2020 Art Trail on an ongoing basis.
Our other publicity channels have been alerted and are all doing their best to let visitors know that the Online Trail is available and Guides will be in circulation when possible.
It is very sad that we won't be able to welcome art loving members of the public to our Venues this year. Whilst the Guide cannot be used to direct visitors on the 2020 Trail, it is nevertheless an attractive
GUIDE TO THE ART & ARTISTS OF CHICHESTER & SURROUNDING AREAS
We have 23,000 Guides sitting in boxes, waiting for the dust to settle. When we are all safe to go out and about again, we can arrange for artists to collect and distribute the Trail Guides with a printed bookmark insert.
It is not quite the coffee table book, but it is a directory that can be kept for reference, with an invitation for visitors to contact us and arrange a future time to visit.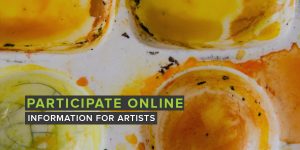 What you can do…if you would like to!
Your Art Trail webpage is a personal online platform with your art, background and contact details, carrying direct links through to your other forms of marketing. If you wish to add additional information…a message to potential visitors, other events you may be arranging or participating in, when they may safely visit you in the future etc, send details using this link info@chichesteropenstudios.org and we will add them to your page for you.
Send us interesting information about yourself, your practice or services to artists and art lovers, with some images, using this link info@chichesteropenstudios.org and we will add them to our blog posts and social media.
Sharing
Even if you do not have any social media platforms, you can share these links to our website and Guide. Copy and paste them into emails to friends/fans/potential visitors and ask them to share too:
Chichester Online 2020 Art Trail and Online Trail Guide
If you do use social media, please follow/like/share the Trail posts. Or do your own posts directing people to your webpage and/or the Trail website.
Another suggestion
Add a flavour of your creative environment and extra interest to your webpage. Answer these 4 questions and we will publish them on your webpage as a mini Artist Interview:
How is your creativity of benefit during this time of self-isolation?
Why does your medium of choice fulfil your need or desire to be creative?
What is your most loved tool or piece of machinery, and why?
What are you working on at the moment?
Here is a becalming quote from Leo Stevenson of Venue 146 in this year's Harbour Trail
I know that my paintings can't change the world, I know I do not have fingers dripping with genius, I am just trying to create paintings that can shine a little light into the dark corners of my life and, if I can, into the lives of others. Does that give me "joy"? When I succeed, yes it does…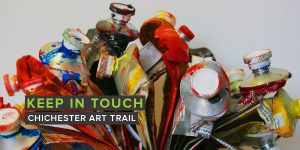 We will keep in touch, via Newsletter, with any further developments.
Keep an eye on Instagram and Facebook too and please follow/like/share our posts.
We hope you keep well; our thoughts are with all fellow artists and may your creative talent keep you buoyant and happily occupied until we are all free to meet up again.
With our very best wishes
Nicola, Terry and Karen
P.S.
We would like to thank you for your kind messages such as this one, which have given us much consolation considering the disappointment we as organisers feel, unable as we are to deliver the bumper Trail we felt we were heading for in 2020
I just wanted to say a huge thank you to the team for all you have done, in getting us to where we are today, re the preparation and marketing of the Chichester Art Trail. It has been a pleasure to be one of the exhibiting artists in an event that is always eagerly awaited, by both artists and visitors.
I look forward to participating next year and, as you say, the pressure is now off thereby giving me permission to play and experiment with new ideas, in readiness for next year's event.
Once again, many thanks for all your efforts, team, and stay safe. 
Read the Chichester Online 2020 Art Trail Newsletter in full.
About this post

Open Studios Dates

Chichester Open Studios will be held on 18th, 19th, 25th, 26th and 27th (Bank Holiday Monday) May, 2024.

View artists