Hello, I am the one standing there, ready to run, with the newly passed Art Trail baton just entering my hand! After 8 years of running, and growing, Chichester Open Studios Art Trail, Malcolm Macdonald has handed it over to me.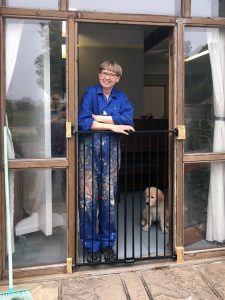 I am very proud to have the opportunity to add what I can to this very rich fixture in Chichester's calendar of events; well known to and enjoyed by many artists and visitors alike, the first 2 weekends in May are the 'Art Trail weekends'.
I have taken part in the Art Trail for the past 7 years, so have plenty of experience from the inside…what it is like to prepare and take part, the information and support that a Trail artist appreciates, and during that time I have welcomed hundreds and hundreds of visitors to my studio!
Here is a little bit about me and my practice. In 2010, I set up Courtyard Studios in Chilgrove, renting a space for myself and one other artist. As the studio became known through open events, artists were attracted to the creative atmosphere that grew at the Courtyard. I now have 3 studio buildings with 6 other artists working alongside me, all of varying disciplines, from painters, sculptors, installation and textile artists, to a resident framer husband. I spend most of my days at this 'home from home' studio in an environment that supports my creativity and promotes the creation of paintings, textile sculptures, installations, quite a few dresses and many a woolly cardi!
I am more than happy to embrace the Art Trail into my creative life. I am particularly pleased that Chichester's is an 'Open Studio', rather than 'Gallery', Trail because it is in the practice and process of creativity that my passion lies. A studio is an artist's vessel, their ship, especially kitted out to transport them on their voyage into unknown territory and retrieve wondrous things.
To be invited by the artist into a such a special place as this, is a rare privilege. To be given an insight into the ways individuals bring their many and varied creations into form, is an enriching experience and one that fills their work with meaning for the viewer, making it desirable and bringing it alive.
I recently visited Malcolm in his now peaceful studio world, with my daughter Ellen who has offered to do some interviews of artists in their studios, to feature, in the first instance, on the website. The first, of course, had to be Malcolm! After an hour or so, we came away enlivened through Malcolm's love of his work. His generosity in the sharing of his practice, brought his pots to life and we loved them all! Such is the delightful experience the Open Studio Art Trail can offer to visitors.
I hope I can continue to run, and grow, the framework of support that the Art Trail organisation offers to Chichester artists, who en masse, can deliver a weighty offering of surprise and delight, to thousands and thousands of visitors each year.
Registration for the 2018 Art Trail will be open from the 1st – 30th of November…so coming up soon! I will send out a newsletter soon. Or just visit the website to register online between those dates.
Best wishes to all and here's to a great 2018 Trail!
Nicola
About this post

Open Studios Dates

Chichester Open Studios will be held on 18th, 19th, 25th, 26th and 27th (Bank Holiday Monday) May, 2024.

View artists