This is the first year that furniture designer Edward Johnson – venue 30, is exhibiting as part of the Chichester Art Trail. Edward is an award winning contemporary furniture maker, whose outstanding design, craftsmanship and engineering skills are combined to create beautiful handmade furniture.
Edward Johnson pictured with his 'Orbis' drinks cabinet and his Ed, Edd & Eddy – nest of tables
Based in Bosham, Edward Johnson's studio and workshop is at the very heart of his business. Edward moved to his current workshop in 2014, allowing him the space to expand and install specialist equipment to fully explore his materials in great depth; the key to the evolution and development of his highly innovative furniture. His work is the product of a deep understanding of his materials and the desire to explore its possibilities. His creative approach allows him to think outside of the box and push the boundaries of his materials – primarily, although not exclusively – wood. It demands that he stays true to traditional methods, where he has worked tirelessly to hone his craftsmanship, specialist skills and technical knowledge – whilst striving to do so with an open mind and ambitious nature.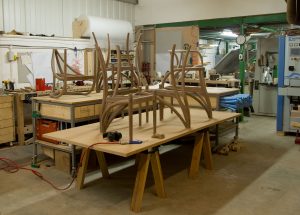 Edward describes his work as 'being led by a core desire to challenge and innovate'. His designs are often conceptually based, but with form and function always at the fore. Edward perceives both beauty and usefulness in equal parts when designing and developing his ideas into thought-provoking, fluid and tactile forms. One of his principal aims is to challenge our understanding of what is possible, which he achieves through creative aptitude and his mastered ability to engineer in wood.
Please note: 
Edward's studio is only open on Saturday 29th April (10.30am – 2pm) and Saturday 6th May (10.30am – 5.30pm)
On Saturday 6th May Edward will be giving a special Furniture Oiling Demonstration at 2pm
About this post

Open Studios Dates

Chichester Open Studios will be held on 18th, 19th, 25th, 26th and 27th (Bank Holiday Monday) May, 2024.

View artists