Chichester Open Studios Artists
Polly Dutton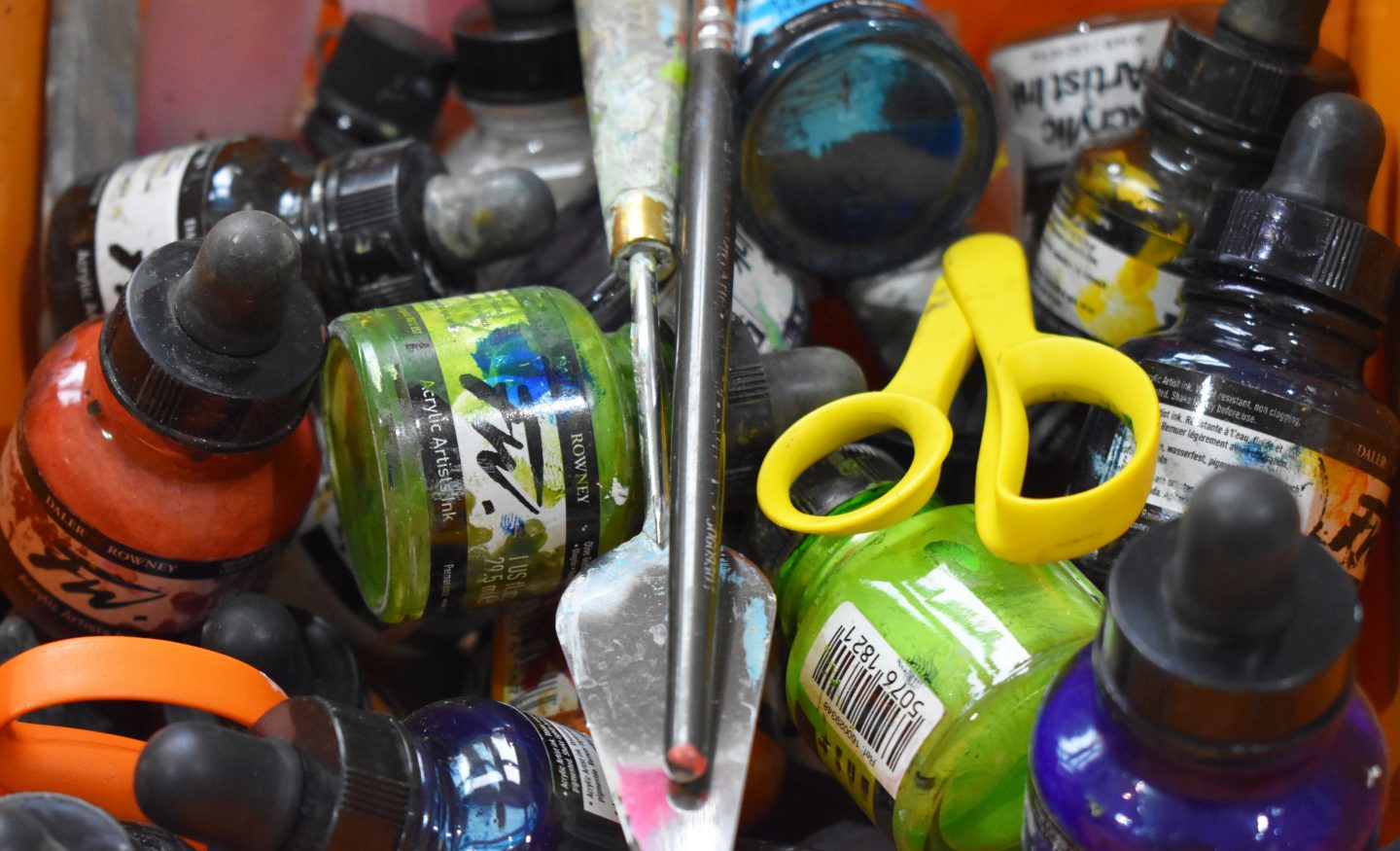 Posted by Nicola Hancock on 2nd February, 2018
Our second studio visit was to Polly in her lovely home in Slindon.  If you would like to know how this came about, you can read the story behind our Artist Interviews in the Introduction to this new website series.
Polly's newest work is specifically for the Chichester Open Studio Art Trail 2018. The series will be  inspired by the sea and shoreline around East Wittering. She is printmaking using stones, shells and artefacts found on the shoreline. Her abstract works are a direct response to the environment, resulting in work that is raw, immediate and alive.
Polly's work is with collectors throughout the UK, USA and Australia, and can be seen on her website www.pollydutton.co.uk
For the 2018 Art Trail, she will be showing her work and practice with fellow artist Suzi Wright, in Suzi's studio in East Wittering.
... I have a collection of inspiring art books in the studio and a lovely old comfy chair into which I can plonk myself.

Nicola Hancock

How long have you been at this studio?

Polly Dutton

I've been working in this space for the last 8 years.

Photographic Credit: Ellen Hancock

Nicola Hancock

What is your favourite feature of the studio?

Polly Dutton

I have 2 favourites – the view from the windows into the garden and the smell.

The view into the garden is forever changing with the seasons. Both windows have a totally different aspect. I feel very secluded in the studio as it's not overlooked in any way and the garden wraps itself around me – it's very comforting.

The smell! There is nowhere else in the house that smells so good. The smell is a mix of all the paints, mediums and paper I use. I burn incense when I work and that mingles to produce an almost hypnotic scent.

Photographic Credit: Ellen Hancock

Nicola Hancock

What is a normal day in the studio like for you?

Polly Dutton

I need to get certain things done before I relax and start work. I will normally take the dogs for a walk, set the washing machine going and get rid of any household chores. I've learnt that getting all those bits out of the way I'm clear to think about, and feel, my way into working.

Photographic Credit: Ellen Hancock

Nicola Hancock

How have you adapted the studio to assist and develop your artistic practice?

Polly Dutton

I think the biggest adaptation has been a shift in the family's view of the room. My studio is a room on the ground floor of our house and was an office space used by all the family. I took over the room 8 years ago to create a place of solitude for working.
I've added daylight bulbs to the lights. It's not the lightest of studios so they are really necessary – especially in the winter.

I've bought odd bits of second hand furniture that I don't mind covering in paint. I love the 1950's tea trolley I bought from a charity shop. I wheel it next to my easel and use the top to mix paint, then wheel it away again to act as storage. I also use an old 1950's cupboard that belonged to my Mum-in-law to store paints etc. Both items have been given a new lease of life and have a history – very satisfying! They're like having old friends in the studio with me.

Photographic Credit: Ellen Hancock

Nicola Hancock

What changes to your studio, that you are unable to make, would you make if possible?

Polly Dutton

I'd like make the ceiling higher. Our cottage has low ceilings which prevents me from racking up my easel to accommodate really big canvases.

I'd also like to have a space about 4 times the size. I enjoy printmaking as well as painting and I'd love to have a totally dedicated area.

Photographic Credit: Ellen Hancock

Nicola Hancock

What time of year do you most enjoy your studio? 

Polly Dutton

I love late afternoon in the summer. The light is so beautiful at that time of the day and the studio is cool. I generally work with the windows open all year round. I love to feel the weather coming inside.

Photographic Credit: Ellen Hancock

Nicola Hancock

You were previously a photographer, how has your process and space changed since then? Has it informed your current practice?

Polly Dutton

My photographic studio was only really used when I had clients. The rest of my work was out and about doing weddings etc.

My present studio feels as if it's the heart of my practice as a painter – my nucleus. I go there to reflect upon, and contemplate my work and to immerse myself in the process.

My photographic background certainly informs my painting as far as composition and a record of a place is concerned. I take photographs and pin these up on the studio walls along with sketches and 'works in progress'.

Photographic Credit: Ellen Hancock

Nicola Hancock

When you are creatively lost or frustrated how does the studio inspire you? 

Polly Dutton

I have a collection of inspiring art books in the studio and a lovely old comfy chair into which I can plonk myself. I'll gather some books, a cup of tea and put on some jazz music. My studio is full of the wonderful colours of art materials, it's easy to become inspired by them. Also, the smell just makes me want to work.

Photographic Credit: Ellen Hancock

Nicola Hancock

What projects are you working on at the moment in the studio?

Polly Dutton

I've been fortunate enough to have been given the position of Artist in Residence at Parham House and Gardens. I will have a solo show this Spring so I've been working very hard to produce a body of work that reflects my vision of the gardens.

Also, I'm creating a body of work especially for the 2018 Art Trail.

Photographic Credit: Ellen Hancock

Nicola Hancock

What is a 'studio' to you?

Polly Dutton

It's a place of safety where wonderful things can happen and mistakes can be made. Experiments can be undertaken and risks can be taken and there is no need for them to be seen outside the studio space.

For me it's also a place of solitude where I can be who I am and a place that is totally mine – a nest. I can surround myself with all the things that are important for my practice as an artist and become immersed in the process.

There is nothing in there the family wants or needs and they know when I'm working in the studio to leave me alone …most of the time!

For me, a studio a space totally dedicated to creation.

Photographic Credit: Ellen Hancock