After working in isolation and with uncertainty for so long, it was a delight to see real artists last Saturday!
Thank you for bringing your artwork and collecting Venue supplies.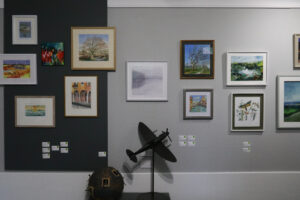 The Show of Work is looking splendid and the Trail is now very much in the air.
Weekend visitors have been impressed! For artists it has been a chance to see fellow artists' work. Visitors wandered with Trail Guide in hand, matching artist, art and Venue.
It has also been a trial run for our Covid safety policies. Visitors have been very willing to play their part and appreciative that we are mindful of their safety.
We hope you can come and visit the Show of Work. More information and opening times on the Art Trail Hub page.
If you would like to come and do a spot of stewarding, we would very much appreciate your presence, as would visitors. Please SEND A NEW EMAIL to info@chichesteropenstudios.org – do not reply to this Newsletter.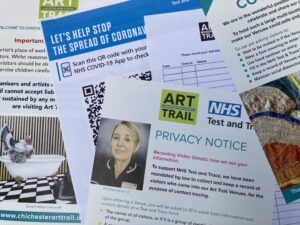 While it is a shame that the final phase of lockdown has been extended, our Covid policies can cover our event.
 You will have collected your Covid-Safety pack
along with your Venue supplies.
Please take some time to read this through before
the first day of the Trail.
Venue conditions may vary from an enclosed studio to outside in a polytunnel! So do give some thought as to how you will comply with regulations and manage your own particular setup.
The Covid, Privacy and Safety posters, plus the covid-related paperwork, specific to your own Venue, are there to support you in our endeavours to offer a professional, considerate and safe experience for our visitors.
By opening your Venue, you are agreeing to put the required covid-secure measures in place. The aim is to keep artists and visitors safe, comply with the law, and prevent you, or the Art Trail organisers, being subject to a fine.
To be sure you are confident about the necessary procedures, please read through your Covid pack and look up the following:
The Covid Safety page on the website, with information for both artists and visitors about the regulations to follow.
Information about Setting up your Venue Please scroll down to read TRAIL HOUSEKEEPING
Venue Safety
Any queries, SEND A NEW EMAIL to info@chichesteropenstudios.org – do not reply to this Newsletter.
You have your printed resources but if you need more, we have plenty at the Hub for you. 
We may find it more problematic to distribute Guides this year as some of our usual distribution centres are not able to display third party leaflets. Please find inventive ways to get those Guides out there! Eg:
If you are in a suitable location, pop a box out by your gate for passers-by.
Post through the letterbox of targeted potential Trail-goers.
A great idea by one of our artists, that is working well…a ziplock bag of Guides hanging at the edge of a footpath for walkers to take.
The digital publicity resources are available on the website for you to download from the Publicity page.
Art Trail Information in a Nutshell
The logo
Posters with Art Trail details
Digital Trail Guide
All are ready to email and formatted for your own social media posts.
The Trail has a social media presence on Instagram and Facebook. This does the helpful job of promoting the work of our artists and raises visitors' awareness even before the Trail begins.
Please follow, like and share @chichesterarttrail and use #chichesterarttrail2021 so your work can be discovered by our visitors.
We will tag you and your work in posts of the Show of Work.
Can't resist one more pic of our Show!
Here are the opening times, we hope to see you and your art-loving friends.
Open until SUNDAY 4th JULY
11am – 4pm at weekends      11.30am – 3pm on weekdays
Closed on Mondays and Tuesdays
Collecting unsold work
We will inform you if your art has sold during the Show of Work. Otherwise, please collect any unsold work after the show closes, between
4pm and 5.30pm on Sunday 4th July
or 11.30am and 2.30pm on Monday 5th July
A Show of Work by Chichester Art Trail Artists at the Chichester Art Trail Hub
It's under 3 weeks now! Hope you enjoy the focussed creating in the final run-up to the Trail.
We'll be in touch just before it all begins…
With very best wishes
Nicola, Terry & Karen
P.S. Could you keep a look out for fellow Trail artists – have they received the Newsletter?
Newsletters are always available on the Blog and all the information you need to take part in the Trail is on the website chichesterarttrail.org
P.P.S. If you want to contact us, please send a new message to info@chichesteropenstudios.org. We will respond, so if you do not get a reply, please try again or contact us via the website.
About this post

Open Studios Dates

Chichester Open Studios will be held on 18th, 19th, 25th, 26th and 27th (Bank Holiday Monday) May, 2024.

View artists