It finally feels as if the Trail really IS going to happen!
The Trail Guide has now gone to print and we are forging ahead in preparation for the Trail in mid July.
As this is such a special year, the Trail does not have the usual format; please read on carefully so you know what you need to do:
Collection Day – what, where, when, and your time slot.
The Show of Work – what to bring, your label information and opening times.
Digital publicity resources are ready for you.
Could you keep a look out for fellow Trail artists – have they received the Newsletter?
Newsletters are always available on the Blog and all the information you need to take part in the Trail is on the website.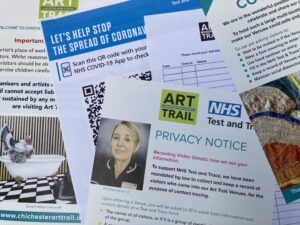 In order to present a professional and considerate approach to our visitors, we have designed and printed Covid, Privacy and Safety posters, plus the covid-related paperwork which is specific to each Venue. 
By opening your Venue, you are agreeing to put the required covid-secure measures in place. The aim is to keep artists and visitors safe, comply with the law, and prevent you, or the Art Trail organisers, being subject to a fine.
To be sure you are confident about the necessary procedures, please look up the following on the website:
The Covid Safety page, under ABOUT, with information for both artists and visitors about the regulations to follow.
Information about Setting up your Venue, under JOIN US, please scroll down to read TRAIL HOUSEKEEPING
Venue Safety under JOIN US
On Collection Day (see below) you will receive an Art Trail Goody Bag which will have all your relevant posters and paperwork – with instruction sheet!
Fast approaching now! Saturday June 12th at the Art Trail Hub.
This is the day to pick up supplies to turn your workplace into a Trail Venue and to bring a piece of your art for the Show of Work.
Pick up Trail signs.
Your Covid paperwork will be ready for you.
Collect Trail Guides and publicity materials.
See yourself and your Venue in print!
Bring a piece of artwork for the Show of Work by Trail artists (information below).
Covid Safety on Collection Day
Please arrive during your appropriate 1 hour time slot, maintain social distancing and wear a face covering if you enter any indoor areas. Thank you.
Venue 1 – 22        10am – 11am
Venue 23 – 45      1am – 12noon
Venue 46 – 66      12noon – 1pm
Venue 67 – 91      1pm – 2pm
Venue 92 – 112    2pm – 3pm
It is important that artists attend – or arrange for someone to come on your behalf.
Any problems, please send a new email to info@chichesteropenstudios.org
See the Collection Day page, under JOIN US, for the information you need and for directions to the Art Trail Hub.
SATURDAY 19th JUNE – SUNDAY 4th JULY
11am – 4pm at weekends         11.30am – 3pm on week days
Closed on Mondays and Tuesdays
Our Show of Work is also a Festival of Chichester event this year.
We will be holding a Show of Work at the Art Trail Hub –  work by our artists for the public to view and buy, and a taster of the Trail to follow.
We would like everyone to have the benefit of taking part. You will need to read the website page to find out how: A Show of Work by Chichester Art Trail Artists
Label information is to be submitted via the website – as soon as possible please, and by 10th June at the latest. 
Work is to be brought with you on Collection Day (see above).
The Art Trail Hub
At Courtyard Studios, we are creating a place to house and discover all things Art Trail…with a new gallery space to hang the Show of Work by Trail artists.
The Hub will be open from the 19th June.
Potential Trail visitors can pick up information, see and purchase your artwork and get a taste of the Trail to follow later in July. There will be roadside, social media and Press advertising, and this will also be a Festival of Chichester venue. Please read about it, and opening times, on the new website page Chichester Art Trail Hub
The digital publicity resources are now available on the website. 
We promote the Trail and support our artists by advertising in the Press, in local magazines, as a Festival of Chichester event, via Social Media platforms, keeping the website active and providing signs, posters, flyers and Trail Guides.
Your own efforts to market your Venue, your work and the Trail, to friends, fans, family and other interested parties, are greatly appreciated and will serve to increase visitor numbers and all artists' enjoyment of the Trail experience.
To this end, we have provided the following for you to download from the Publicity page on the website.
Art Trail Information in a Nutshell
the logo
posters with Art Trail details
Digital Trail Guide
All are ready to email and formatted for your own social media posts.
Printed publicity resources will be ready for you to pick up on Collection Day.
News for Online Artists
We hope you will participate as much as you are able to.
Please do come along to Collection Day and take part in the Show of Work.
For your information:
The Online Trail has been added to the website alongside the 5 regional Trails
Online artists are highlighted in blue in the website listings.
The Trail Guide carries information about the Online Trail.
All Online Trail artists will remain in the Trail Guide, their entries and map locations highlighted in blue – so that visitors know NOT to turn up!
Visitors are invited to contact artists to arrange a visit at a future convenient date.
Advertising and social media include promotion of the Online Trail
We will be in touch again soon, but meanwhile, we look forward to seeing you, and your artwork, on Collection Day, Saturday June 12th.
With very best wishes
Nicola
P.S. Please submit your label information via the website – scroll down the page a bit, on the right!
P.P.S. If you want to contact us, please send a new message to info@chichesteropenstudios.org. We will respond, so if you do not get a reply, please try again or contact us via the website.
About this post

Open Studios Dates

Chichester Open Studios will be held on 18th, 19th, 25th, 26th and 27th (Bank Holiday Monday) May, 2024.

View artists