WE HAVE PASSED THE FIRST HURDLE!
We now have a new Trail in the making, 130+ artists have registered …so we are pleased to confirm that we will proceed with preparations for the 2021 Trail.
This is a message to all those artists who will be bringing the Chichester Open Studios Art Trail to life again in 2021.
Some of our regulars have taken the prudent decision not to participate in 2021 – we wish them safe and well and will gladly welcome them back for 2022.
WHAT HAPPENS NEXT?
Behind the scenes work to collate all artists' data and create the new Trail. This is the time we are adding Venues to maps, grouping artists by categories and compiling everything so that the graphic design work and upload to the website can be done.
We will aim to have the website up and running towards the end of January and the Trail Guide proof by about mid February. In both cases, you will receive a Newsletter inviting you to check your entry.
In the meantime, you can find anything you might like to know on the website; have a look under Join Us. At the moment, these pages may be helpful:
Diary Dates
Guide for New Artists
Or you can send a new email to info@chichesteropenstudios.org if you have any queries.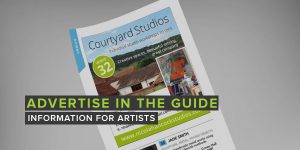 DO YOU PROVIDE SERVICES FOR ARTISTS?
In 2021 we hope to be printing and distributing thousands of Trail Guides to artists and art lovers. If you would like to let them know how you can enrich their creativity, an advertisement in the Guide may be a thought…
Artists may advertise their courses or similar artistic services. The advertisement may indicate the associated Art Trail Venue number.
Please note though
Advertisements promoting an individual artist are not accepted. To maintain equal support for each Trail participant, the artist's own entry in the Guide is deemed to be the only promotion necessary for an individual and their work.
Artists enter the Trail as an individual and we do not promote any business sponsorship of an artist.
Full, half  or quarter page adverts
Latest copy & payment date: 23rd January 2021
Please send a new email to info@chichesteropenstudios.org for full specifications and prices.
It is still impossible to predict whether the Trail can go ahead in May 2021.
 Our 4 phase plan of action is in place to deal with the changing times.
You can read our 4 Phase Plan for 2021 so you know when important decisions will be taken.
As plenty of artists have registered, we have now moved on to Phase 2 .
We will also keep you informed by Newsletter.
The Trail has a social media presence on Facebook and Instagram. This does the helpful job of promoting the work of our artists and raises visitors' awareness even before the Trail begins.
Please follow, like and share @chichesterarttrail and use #chichesterarttrail2021 so your work can be discovered by our visitors.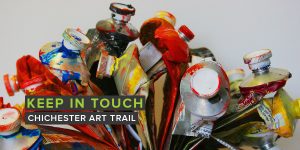 We will be back in touch in the New Year, but the main message for December is… Welcome to Chichester Open Studios Art Trail 2021!
Fingers are still crossed that we can all look forward to welcoming visitors in May.
Please remember to add info@chichesteropenstudios.org to your contacts or VIP list, so that these all important communications do not end up in spam.
If you have any queries, you can get in touch with us at info@chichesteropenstudios.org
Terry, Karen and I wish you safe and well, a Merry Christmas and the very best for a new start in 2021.
Nicola
Nicola Hancock
Chair
Chichester Open Studios Art Trail
About this post

Open Studios Dates

Chichester Open Studios will be held on 18th, 19th, 25th, 26th and 27th (Bank Holiday Monday) May, 2024.

View artists