Sandra Bidmead – Venue 82 – specialises in modelling animals of all shapes and sizes, in stoneware clay. She is able to capture a special humour in her work and at the same time utilise and express with a creative vigour, the characteristics of the raw materials.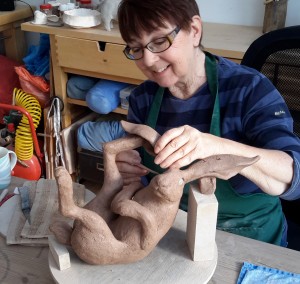 "I've  just checked the work destined for the Trail and so far so good.  Need some more though and, as the hares are out and about at West Dean that's all the inspiration I need to push the March Hare pose a little bit further.
It's already fallen on it's back but maybe getting a hind leg behind it's ear will look at little madder. So to begin, anything upside down is best started in a puki – a sort of cup that provides a stable base.  After that the fun begins. I just need to build upwards and enjoy finding  the right pose.
24 hours later and it's done. Now it needs to dry out enough to join the menagerie in the kiln.
What next?  The sun is out and I've spotted a cat playing with a feather…"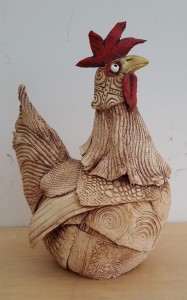 About this post

Open Studios Dates

Chichester Open Studios will be held on 18th, 19th, 25th, 26th and 27th (Bank Holiday Monday) May, 2024.

View artists