The Trail Guide has been printed and we now are getting ready for Collection Day, Saturday April 6th – a watershed day in the 2019 Art Trail calendar. Pick up all you need to announce your workplace as a Trail Venue and see yourself and your Venue in print!
Collect your bright green Chichester Open Studios Art Trail signs so visitors can spot your Venue.
Printed publicity materials are ready for you – Trail Guides, flyers and posters.
It is a social event for those who would like to stay awhile and meet other artists.
COLLECTION DAY
Everything you need to know is now on the website under the Join Us tab. Please refer to Collection Day for the necessary information.
It is important that artists attend. If you are unable to collect, please arrange for someone to come on your behalf. Any problems – email info@chichesterartttail.org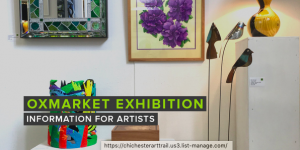 Every artist is included in this exhibition; it heralds the coming of the Trail and helps visitors make a choice about which artists to see, which Venues to visit and to plan their Trail route.
The most vital thing of the moment is…. LABEL information please! Please send your label information as soon as possible, and no later than Friday April 5th, to info@chichesteropenstudios.org.
For more details about labelling, the all important dates, work you can submit, when to drop off and collect, the Launch Party and much more, see the Oxmarket Preview Exhibition page on the website under Join Us.
So that you always have access to the important Art Trail timings, the Diary Dates are now available on the website under Join Us.
Current Trail task 
Send your label information as soon as possible, and no later than April 5th. Everyone is included, please see Oxmarket Preview Exhibition for details.
Coming next
Saturday 6th April 10am – 3pm, at Courtyard Studios in Chilgrove, Collection Day
To read the Newsletter in full, please visit March 2019 Newsletter
About this post

Open Studios Dates

Chichester Open Studios will be held on 18th, 19th, 25th, 26th and 27th (Bank Holiday Monday) May, 2024.

View artists