WHAT AN AMAZING PREVIEW EXHIBITION!
Testament to the creativity of Trail artists in and around Chichester – the Preview Exhibition is stunning. Visitors are impressed already!
Thank you everyone for contributing your art to create such an inviting welcome for Trail-goers and an exhibition that really does us proud.
See you on Sunday 28th April at the close of the Preview Exhibition, between 4.00 and 4.30pm, to collect your work…if it hasn't sold! Sales will be processed by the Oxmarket and payments will take a few weeks to reach you.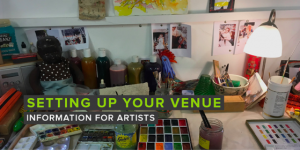 WE'RE ON THE HOME STRAIGHT NOW!
The website Setting up your Venue page, under Join Us, will give you all sorts of helpful hints and advice about preparing your space for the Art Trail.
Here a few notable points:
OPEN STUDIOS
The most special thing about Chichester Open Studios Art Trail is the Studio bit.
There are lots of Gallery Trails nearby, and at different times of year, showing finished work as an exhibition…our kind of Trail is more than this!
Our particular visitors are seeking to gain an insight into the creation of your art and the environment in which it is made.
Whether you do have a studio, or you work at home, or are hiring or sharing a space, please offer this extra dimension by giving a flavour of the way you create; your work in progress, sketches, studies etc.
OPENING HOURS
All studios open from 10.30am – 5.30pm each day (with the exception of those who have elected to be closed on Bank Holiday Monday).
ARTIST EVALUATION FORM
Remember to do the tally of visitors and sales please – your Goody Bag contains the Evaluation Form, and there is full information on the Setting up your Venue page if you need it.
You can also download a copy of the Evaluation Form from the Trail Housekeeping section of the Setting up your Venue page, if you have mislaid it.
TRAIL SIGNS
Please be considerate when placing the Trail signs in your vicinity and do not mount them on traffic signs.
They are for display on the Art Trail days only, not before the event, and may need to be removed midweek, or even in the evenings in some areas.
Please take down all signs immediately after the event and store safely for another year.
To read the Newsletter in full, please visit Pre-Trail 2019 Newsletter
About this post

Open Studios Dates

Chichester Open Studios will be held on 18th, 19th, 25th, 26th and 27th (Bank Holiday Monday) May, 2024.

View artists